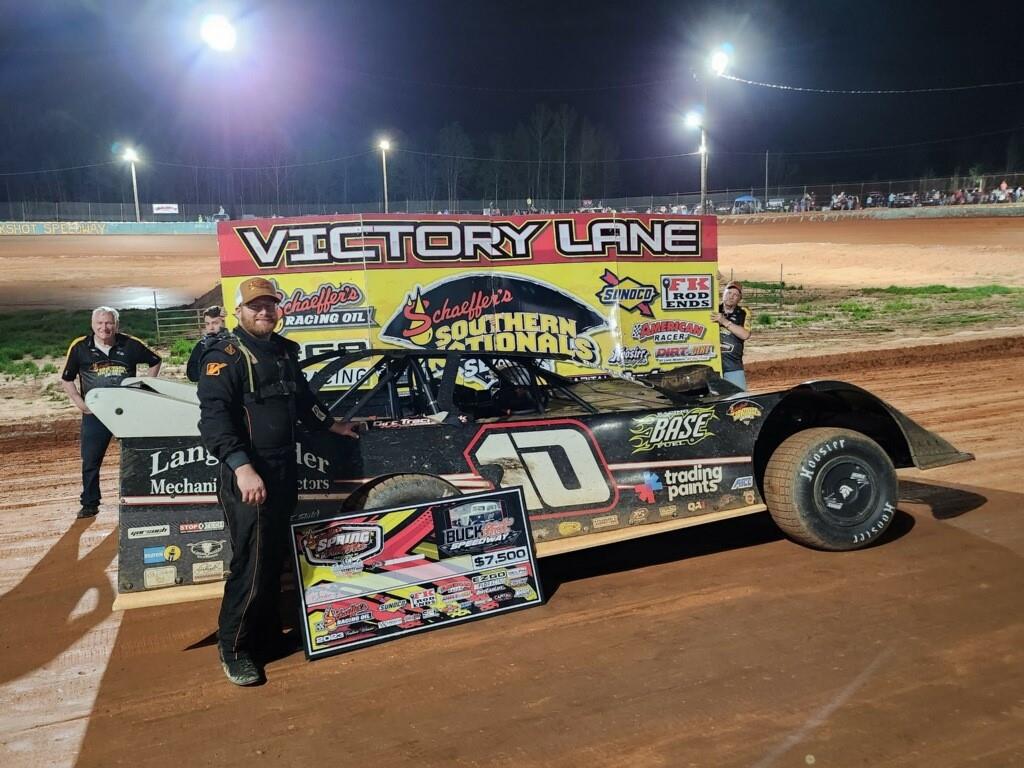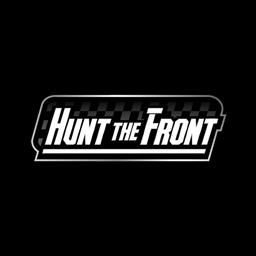 4/1/2023
---
Hunt the Front Doubles Down in Buckshot Victory Lane; Joiner Wins at Whynot
Hunt the Front found it's pilots enjoying a successful weekend in the team's entries.
Joseph Joiner stormed to a pair of victories aboard his Base Racing Fuel No. 10 Langenfelder Mechanical Contractors / Three Trade Consultants / Longhorn Race Car Super Late Model. He banked his first-career Schaeffer's Oil Spring Nationals win on Friday night at Alabama's Buckshot Speedway before storming to the Mississippi State Championship Challenge Series (MSCCS) triumph on Saturday night at Whynot Motorsports Park.
Meanwhile, Jesse Enterkin registered his first-career 604 Crate Late Model win on Friday night at Buckshot Speedway aboard his Langenfelder Mechanical Contractors No. 1 HTF Base Racing Fuel / Capital Race Car.
"What a great weekend for our team. It's not easy to unload and maintain two cars on any night at any track, much less to see both cars go to Victory Lane. It says a lot about how hard this team works," Joseph Joiner said. "Buckshot (Speedway) has been good to us. We've been there three times and we've won three times, so I'm liking that place pretty good these days. It was our first time there with the Longhorn (Race Car), so I didn't really know exactly how to set it up, but we went pretty close to baseline, and it was on point.
"Saturday at Whynot (Motorsports Park) this thing was on a rail, and we got another win. Thanks so much to everyone, who supports this program. We're focused on going after $25,000 this coming weekend in the Hunt the Front Super Dirt Series openers at All-Tech (Raceway)."
Hunt the Front turned a last-minute decision into a pair of wins on Friday night at Buckshot Speedway (Clanton, Ala.). Joseph Joiner bested the Schaeffer's Oil Spring Nationals Super Late Model action, while Jesse Enterkin wired the field in the 604 Late Model ranks.
With 32 Schaeffer's Oil Spring Nationals Super Late Model racers in attendance, Joseph qualified fastest in his group to earn the outside-front-row starting spot for the 40-lap feature.
Bolting to the lead at the drop of the green flag, Joiner drove away from the pack to score the $7,553 triumph, which marked his first with the tour. His fifth win of the 2023 season came ahead of Dillon Tidmore, Ross Bailes, Haiden Cowan, and Kenny Collins.
Meanwhile, Jesse Enterkin dominated the 604 Late Model portion of the event. He qualified fastest overall in time trials, and then proceeded to lead every lap of the feature for his first-career 604 Late Model victory.
On Saturday evening the team traveled west to Whynot (Miss.) Motorsports Park with both Joiner and Enterkin in action once again.
For the second-straight night Joseph stormed to a Super Late Model win, this time with the Mississippi State Championship Challenge Series (MSCCS) Super Late Models. Joiner set fast time in his group in qualifying before winning the dash to earn the pole position for the feature.
Leading all but the first circuit, Joiner stormed to his sixth win of the year, which was worth $3,000. Neil Baggett, Jeremy Shaw, Brian Rickman, and Kyle Beard rounded out the Top-5 finishers in the 40 lapper.
Jesse Enterkin entered into the night's Crate Racin' USA 604 Late Model action. He rebounded from struggles in qualifying finish second in his heat race, which locked him into the fourth-starting spot for the feature. He notched a fourth-place in the B-Main behind Luke Bennett, Chris McElhenney, and Jason Henry.
"Finally got a 604 (Crate Late Model) win on Friday night!," Enterkin shared. "This ole thing was stuck and made my job easy. Whynot is one tough racetrack. I didn't do as good as I was hoping on Saturday, and buried myself early in qualifying and ended the night a solid fourth-place finish. Those Mississippi boys can get down! Overall, it was a great weekend of racing."
Full weekend results are available at www.SouthernNationalsSeries.com and www.WhynotMotorsportsPark.com .
Joseph will look to continue his early-season momentum this Friday and Saturday with the debut weekend for the Hunt the Front Super Dirt Series presented by Sweet Victory Apparel. The weekend is headlined by a $5,000-to-win affair on Friday and a $20,000-to-win program on Saturday.
For more information on the events, please visit www.HTFseries.com .
Article Media
Back to News